In January 2020 members of Home Roots Foundation who live in Haiti started meeting with grassroots organizations with the aim of partnering to help improve self-advocacy and make them more effective. These members will continue to meet with local officials, associations and other stake holders about the schools, education, and economics in these areas and how to best bring about positive changes. For our first trip, we drove over 7 hours from the capital Port-au-Prince to go to Jean Rabel to meet with Organisation des Planteurs du bas Nord-Oust (OPBNO), an organization of farmers in the Northwest part of Haiti. We learned of the dire need for new equipment, roads, transportation, and the lack of basic services and resources. The significant need for change was obvious when we saw the deplorable condition of the public or "national" school. Home Roots Foundation will work with this group to help them with advocacy and acquiring new equipment as they requested.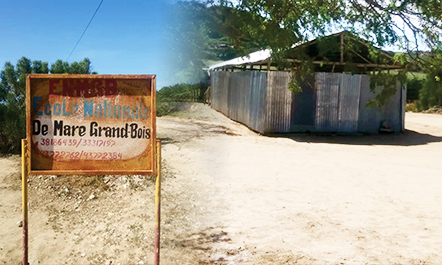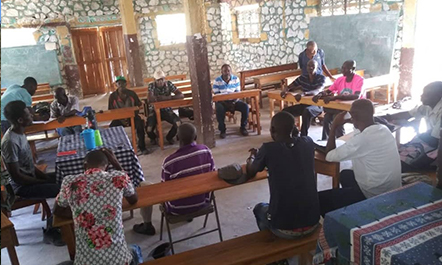 Our next trip was to Belle Fontaine which was maybe about 1.5 to 2 hours away. However, the roads were so horrible it took us 4 hours to get there and 4 hours to return. We met with the peasant organizations Federation Groupman Plante Bel Fonten (FGPB) and Konbit Organizasyon Peyizan Devlopman Belfonten (KOPDEB). These residents inform us that the number one need for the area is—predictably–to fix the roads. We found out some students walk 3 hours to school! They next needs were for agriculture and health services. The organizations made previous attempts to work with city hall to improve the area and make the situation more bearable, but these attempts were unfruitful. Members of Home Roots will be working with these organizations and government officials to address these issues in Belle Fontaine. .
By talking to our team in Haiti, we learned that many schools in Haiti deliberately keep the school day hours short, especially for the younger children. This is because many students come to school unfed, without a lunch and are unable to purchase food during school hours. The teachers and school directors fear that the youngest students will pass out from hunger. So, they are let out early to go home and hopefully eat.
Haiti is plagued with an under-nourishment problem. We are working to provide in-school meals to all our students. This will allow us to extend the school day and better educate the children.
Home Roots is working to start and sustain a school feeding program. Please help with these efforts by contributing to support the school feeding program.
Scholarships/School Supplies Program
Too many students in Haiti simply cannot pay tuition regardless of how low it is. For too many families it is an issue of bare survival with no funds available for uniforms, shoes and other school related expenses. It is then unsurprising that Haiti has a high rate of illiteracy. Moreover, many students start school but must stop going very early during their primary years because of lack of money to pay tuition and school supplies.
In high schools it is common to find overflowing classes. Many of these students can be in their twenties as some had to stop going to school due to lack of funds or sickness. We hope to eventually partner with the Haitian government to address these issues in a systemic manner.
Home Roots Foundation has a small scholarship program that is aimed at preventing students from having to leave school. We also encourage older people to go to school for the first time or return to school.
Women's entrepreneurial Program
Due to many women expressing their desire to start a business and be independent, we started a microcredit program in 2020. This program provides training, mentorship, grants and loans for women to start or expand a small business.
SET-CLUB (speak English together) was founded by Herold Morvan and his team on February 13, 2016. The purpose of SET-CLUB is to teach Haitian children and youth English and expose them to American culture through studying the English language. This is done through traditional classroom instruction, books, videos, and movies. There is no tuition charge to the students and Home Roots Foundation helps to provide materials. The idea for this came about because Herold had a strong desire to help his country and increase opportunities for young people.
With no financial resources he thought he initially he could not contribute anything but then realized the importance of the English language when he started learning it. He saw some jobs in Haiti required the ability to speak the English language and concluded this is the global language. Herold thinks in the future English will be a major language in Haiti after creole. For now his gift to Haiti is to help spread English and awareness of other cultures and ideas from abroad. SET-CLUB meets every Thursday and Saturday.